2015 Review
Details

Created on Friday, 19 December 2014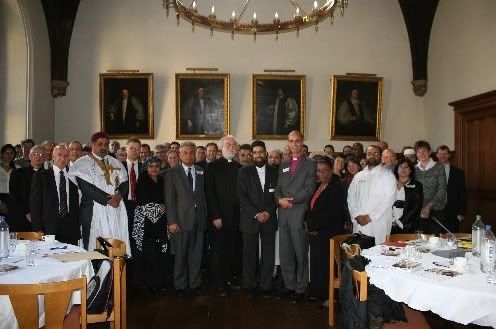 The Co-Chairs of the Christian Muslim Forum wish to announce that, after a decade of outstanding achievements, the Forum is to undergo a significant review and re-structure.  The Forum started its work in January 2006 following a major national report to Archbishop Rowan Williams.  Since then it has achieved a great deal by working with members of all traditions in both faiths to ensure better inter faith engagement and understanding throughout the country.  The issues involved today, ten years on, are as complex and important as ever, but there have been significant changes both in wider society and in the funding streams available to support this work.  After consultation with the wider Forum, the Trustees are putting in place a transition plan which will enable the Forum to deliver its vital work even more effectively in the future.
The Co-Chairs and Trustees are seeking to re-structure the Forum in a way which is sustainable into the future and meets the needs which are being identified for the next few years.   As part of this restructuring, the implementing Director, Julian Bond, will complete his role on Friday 9th January 2015. The Co-Chairs and Trustees wish to record their deep thanks to him for his distinguished, dedicated and important work in this first stage of the life of the Christian Muslim Forum. They are also pleased that he will continue to serve the Forum in an advisory capacity.
With the support of the Archbishop of Canterbury, Patron of the Forum, the Trustees have outlined a development plan in order to re-shape and refresh it.  Plans are being made to ensure that the current work to which the Forum is committed is carried out using the extensive network and expertise of the Forum. Arrangements are also being made to appoint an Interim Director.
During 2015 there will be a major listening exercise and consultation with both Christian and Muslim communities and organisations in order to determine the Forum's future shape and priorities. There is more need than ever for such an organisation and the Co-Chairs and Trustees seek your support and prayers during this important period of transition.
Rt Revd Paul Hendricks, Shaykh Ibrahim MograCo-Chairs
Ends

Background information:
The Forum has its origins in the 'Archbishop's Initiative in Christian-Muslim Relations'. A key element of the Initiative was a Listening Exercise between 2001 and 2004. The Forum was launched by Archbishop Rowan Williams (our Founding Patron) in January 2004, Archbishop Justin Welby agreed to continue this role. The Forum is, though Anglican-initiated, ecumenical with four Christian Presidents aligned with the Churches Together in England groupings (Anglican, Catholic, Free Churches, Minority Traditions) balanced by four Muslim Presidents - three Sunnis of different traditions and one Shi'a.
The working rationale of the Initiative, validated by the Listening Exercise, was that Christian and Muslim communities would benefit from a national body bringing the two faiths together in a significant way to improve understanding, interaction and partnership. Since 2006 the Forum has built a distinctive way of working bilaterally, in partnership with both faiths, including other inter faith organisations.
Significant achievements have included:
2006 – Religious Festivals (or 'Christmas') Statement which achieved very significant media coverage and was welcomed widely
2009 - launch of influential Ethical Witness Guidelines on evangelism and da'wah
2010 – release of a statement on Halal Meat in partnership with the Muslim Council of Britain and the Board of Deputies of British Jews
2012 – a successful programme of supporting women's involvement in inter faith accompanied by our 'Edge' report
2012 – groundbreaking guidelines on Christian-Muslim marriage 
2014 – timely seminar held in Birmingham on British Values and the place of faith in schools (report pending)
Solid work with faith leaders at local and national level, to promote openness to dialogue and collaboration between Christians and Muslims
Extensive use of volunteers and working with those for whom inter faith work can be considered part of their job description. In this way the Forum exercises greater influence than our financial resources indicate
A good range of projects at local level, together with a wide range of contacts built up over many years.
Search the Site
Get involved
And sign up to receive our newsletter and get access to additional content