About us
Who are we?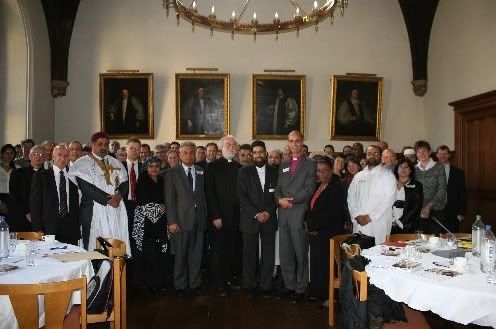 Members of the Forum at Lambeth Palace
The Christian Muslim Forum is made up of three groups of people - Presidents, Specialist Members and Scholar-Consultants. The Presidents are representative religious leaders from both faiths. Read about the Presidents here. Details of the Specialists are under Areas of Work.
How did the Christian Muslim Forum begin?
The Christian Muslim Forum is built on friendship between a group of Christians and Muslims, showing how faith is a catalyst for good relationships and welcomes the 'other'. This friendship began with a small group of Muslims and Christians working on the Archbishop of Canterbury's Initiative in Christian-Muslim Relations. This grew from Archbishop Carey's comments in 1997, "For the sake of the health of this country, we need to find ways in which members of our two communities can meet regularly together in a more structured way than has been possible up to now." His remarks were received warmly and positively by leaders of the Muslim community, leading to the Initiative's Listening Exercise between 2002 and 2004. This link takes you to the Listening team's report, presented to Archbishop Rowan Williams in July 2004. The Christian Muslim Forum is made up of members of the Muslim and Christian communities - Sunni, Shi'a, Anglican, Catholic, Baptist, Pentecostal, Methodist and Coptic Orthodox - and includes various traditions, Evangelicals, Deobandis, Barelwis, Sufis. We believe that:
the time is right for Christians and Muslims to develop strong and committed relationships
we can work together for the benefit of both faith communities and wider society
faith is a resource for peace, conflict resolution, understanding and the valuing of all human beings
friendship between people of different faiths is encouraged by our traditions
Link with 'Faith & Society'
Delving into our history more recently, we also want to acknowledge our connection to 'Faith & Society':
'Faith & Society' was a small group of Christians and Muslims who arranged a unique series of themed get-togethers to engage with key issues between the two groups. This process followed publication and launch of a book called Faith and Power: Christianity and Islam in 'Secular' Britain (still available) by Bishop Lesslie Newbigin, Yale Professor Lamin Sanneh and journalist Jenny Taylor in 1998.  The book was announced at a conference of the same name – the first ever to bring these two groups together in UK - at the London Institute of Contemporary Christianity, with speakers including Professor Tariq Modood, and Dr Philip Lewis.  Some of those involved in the planning of this event and subsequent discussion groups (which included a conference at the Islamic Foundation in Leicester) were later chosen, due to their expertise, as members of the planning team of the Archbishop's Initiative in Christian-Muslim Relations. The loose Faith & Society network, in advance of a number of later Christian-Muslim and inter faith organizations, was a prototype of the Christian Muslim Forum, being based on relationships of trust and focusing on key issues. Julian Bond, Director of the Christian Muslim Forum (2006-2014) and previously seconded to the Archbishop's Initiative, organized the final Faith & Society event at the London Central Mosque in 2003. The remaining funds from Faith & Society were transferred, with the agreement of the account-holder, to the Christian Muslim Forum in March 2006. [updated February 2015]
What we aim to do
To weave a web of open, honest and committed personal relationships between leading Christians and Muslims;
To encourage shared reflection on the spiritual, ethical and practical values of the two traditions in order to offer resources for citizenship in our society;
To build a shared public platform to strengthen Christians and Muslims working together for the common good in partnership with others;
To develop channels of communication to help Christians and Muslims together to respond to events which test our relationship.
The Forum needs You!
As an individual, group or organisation, you can be part of the Forum network. You can view our projects under Areas of Work, you can also make a donation.
How we work
Our work is based on partnership working with other relevant groups and organisations; developing and maintaining channels of communication between a diversity of Christian and Muslim groups; and liaising with the media. 
Disclaimer
We are in contact with Christians and Muslims from many different organisations and walks of life. Inclusion of groups & individuals (and their contributions) at our events, in our programmes or online does not imply endorsement or validation by the Christian Muslim Forum.  Throughout our work, we challenge prejudice, encourage honest conversation and build relationships to promote the common good.
Latest Update
Publicity Leaflet, November 2013
Search the Site
Get involved
And sign up to receive our newsletter and get access to additional content